Cape May Cruise, 2000
The weather started getting rough,

The mighty Zs were tossed.

If not for the courage of the fearless few,

the Cape Cruise would be lost,

the Cape Cruise would be lost!
The forecast was pretty bleak, but the chance to put my car on a ferry was just too geeky to pass up. Besides, I hadn't seen some of these people in months, and I wanted to cruise!
It started out as a soggy day. I was supposed to link up with Rachel while driving on the NJ Turnpike. Unfortunately, I was detained, and ended up several miles behind her on the road, outside of TalkAbout range. Fortunately, both our Cellphones cooperated, and we chatted a couple of times as we went. Eventually, I got to Exit 4 on the NJTP, and I realized I'd forgotten all my directions and contact info. So, from what I remembered of the map to DeSimone BMW I travelled North from the exit. However, DeSimone is to the South! I thought I was going in the right direction - I heard a couple of people, including Craig Cannon, talking away about who was and who wasn't coming. Silly me. I gave up in frustration, turned around, and then got a phone call from Rachel, who was wondering where I'd gone to. She put me on with someone from the dealership, who guided me the rest of the way in.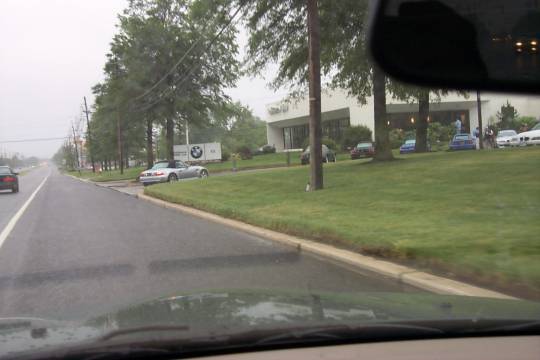 I did one thing the night before, and that was to turn my wheels into gen-u-ine BMW wheels
Closer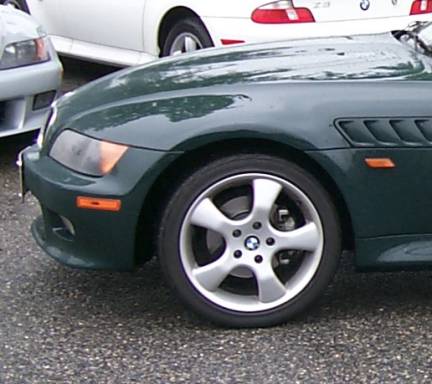 Amazing what a couple of $2 stickers can do :-) Anyway, outside the dealership was the car they help sponsor that is a racer - a 2.8 liter coupe.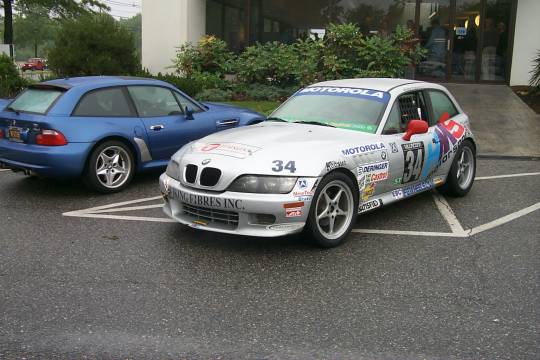 DeSimone was quite hospitable, and gave us a good breakfast spread. I, of course, was more interested in these wheels on a red 2.8 Coupe out on the showroom floor. These are the wheels I wanted when I ordered my car Saffy, but didn't get.
DeSimone had a drawing for some Z3 Stuff, and after then, we were off. We started lining up on Rt 73, and caught up with a couple of people who had to get gas right up the road.
The weather was iffy - off and on rain all day long.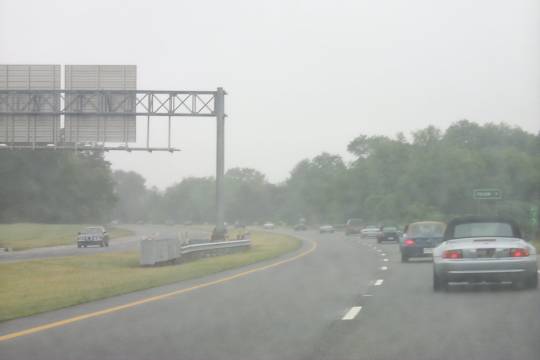 Cape May Page 1 - A wet start
Cape May Page 2 - Sea Isle City
Cape May Page 3 - Promenade
Cape May Page 4 - Cape May
Cape May Page 5 - The Cape May/Lewes Ferry
Cape May Page 6 - Just a short ferry ride away.
---
Back to the Photos Page