Fixit Day:2001, a Z3 Odyssey
It was hard to imagine that a year had passed since the last Fixit Day, which was held back in December of 1999. Daniels BMW and Rachel put on a great event, and someday, I'll chronicle that event (Please check out Rachel's site at PlanetWaycool.com). Back then, I had the Inspection I done, and also got a Dinan Cold Air Intake, one of the best upgrades you can get for the Z3 (I already had a strut brace, which I would recommend as your first must-have upgrade).
So, after the 2000 Homecoming, and having watched this video, (Compiled by Rachel, please do check out her site), I decided I wanted a SuperSprint exhaust. There are two types of SuperSprint exhausts, the standard straight pipe model, and the DTM style, which, as far as I can figure, is an acronym (in German, I think) meaning "Upturned Tips".
Anyhow, when Rachel started investigating another Fixit Day with Daniel's back in 2000, she found that they were doing renovations, and could not hold the event in December like in 1999. Oh well, the end of January was chosen as the alternate date, weather permitting. Well, weather didn't permit, so we rescheduled for the last Saturday in March, also weather permitting. Fortunately, the weather cooperated, and the date held.
At this one, I chose to get a Supersprint with the DTMs, have my Inspection II done, and have my wheels and tires redone yet again. I have not had luck with aftermarket wheels (long story), and last year I purchased some BMW wheels to replace some aftermarket wheels I didn't have much luck with. Aaaaanyway, I had some things to do. More on that later.
At the last Fixit Day, Rachel had worked out an arrangement with the Allentown Toys for Tots drive, and we all got toys for the kids. Since Christmas would be over by the time this Fixit Day rolled around, we needed another worthy cause to give donations to. Lisa Kroc, who bought her car at Daniels, suggested we help out the Third Street Alliance, a Women's Shelter in Allentown. They need clothes, toys, disposable items like Diapers, and so on. Great idea, and we were all happy to oblige. I spent a rainy Thursday night going to WalMart to get some toys. Among the other items, I found a play set of cars that had a Z3 in it, so I bought two.
I heard that a bunch of people were going to meet up in Allentown Friday night, including Bruce T, and Carter The Great, maker of the Z3 Homecoming Videos. They live in the Chicago area, so I had to try to meet 'em the night before. Also, For me, I've found it easier to be close to the start of a Z3 event the night before - I'm bad at waking up early and getting to the events on time, and Allentown is about an hour away from my home, getting there the night before made a LOT of sense.
I wanted to link up with everyone for dinner, but time was not my ally on Friday. I had to work late Thursday night as well as Friday, so I did not have time to pack, nor time to gather up the clothes I wanted to donate until it was time to leave for the hotel. I finally got on the road some time late, and found that everyone had met up at the Hotel and had gone to dinner. I was hoping to link up with them as they were having dessert, but the timing was all off. I arrived in Allentown as people were returning to the hotel. I checked in, and pretty much crashed on my bed after talking a bit to Dave T and Rachel.
Daniels was opening up at 8, so I gathered my things, and left at about 7:45. Already, a couple of the people had packed and were on their way, but a couple of us "slowpokes" were still getting it all together.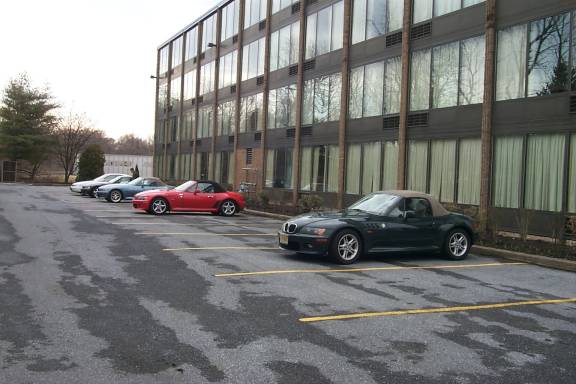 We got there right before 8. They wouldn't let us in, but when it was time, Joe Millington from Daniels came out and got out motors figuratively running. Everything was a GO!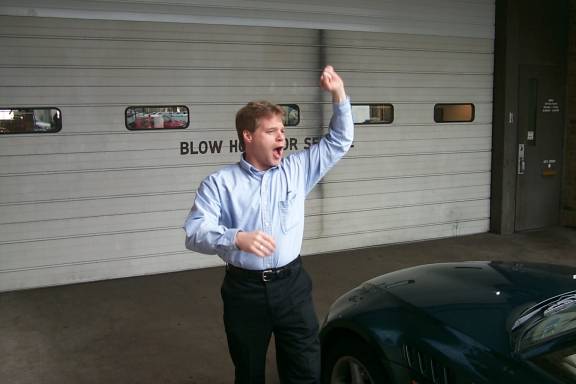 I wondered if they were really ready for us. There were 8 cars there at the start :-)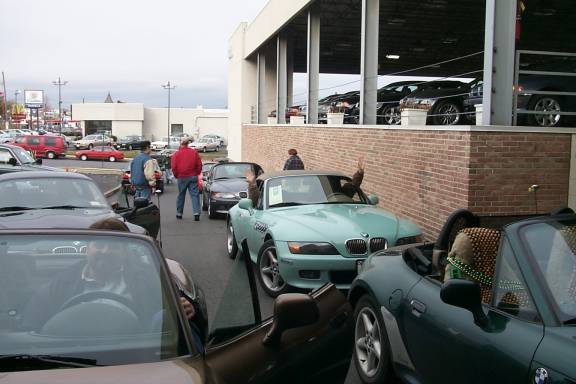 As you can see, we were still waking up, sort of, but definitely glad to be there!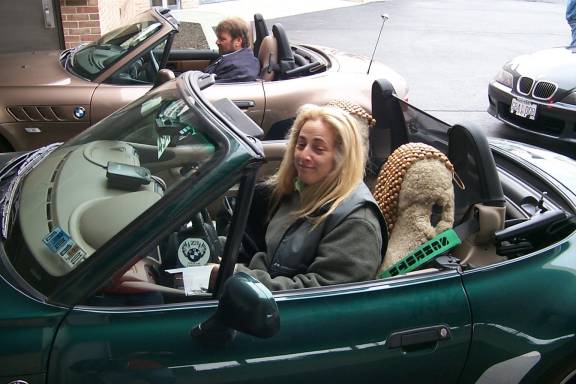 Open, uh, Saskatchewan? Open, Saddle Soap? Oh yeah, Open Sesame!!!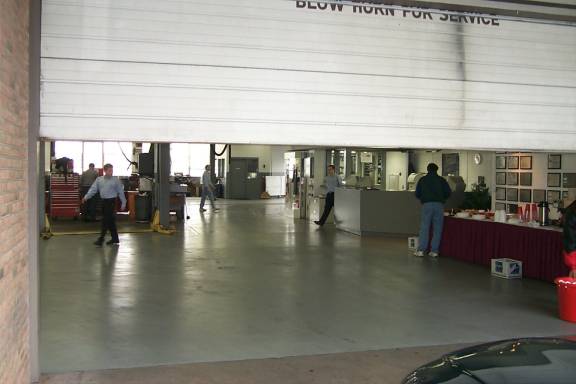 Yes, only slightly awake, but raring to go! The bags on the passenger seat were my donations :-)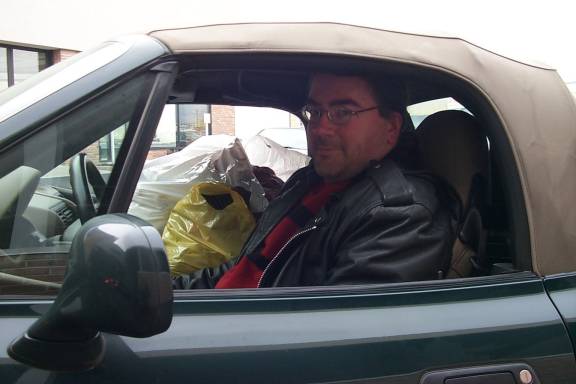 End of Page 1
---
---
Please let Jon know what you think
Go Back to Jon's Z3 Photos Page
All photos are Copyright 2001, by Jon Trudel. No other use is permitted without explicit consent from Jon Trudel.