Fixit Day 2001
My Work
So, I had my own list of things I wanted done on Fixit Day. I had racked up close to 36,000 miles (end of the free maintenance from BMW ) and there were still a few too many status lights on, but I was hoping I could get the Inspection II done.
Aside from the normal maintenance schedule, I had also ordered a Supersprint Exhaust as I previously mentioned. I also had some cracks and scrapes in the left side bolster of the driver's seat. Furthermore, I've had such luck with my wheels being out of balance, and I'd heard that Daniels has the Hunter tire machines, which are supposed to be the best. Lastly, I wanted to get an estimate for repainting the front hood, which is pitted from stone and sand chips. Simply filling in the chips would only look like the chips were filled in. (I also needed to wash my car).
Up we go!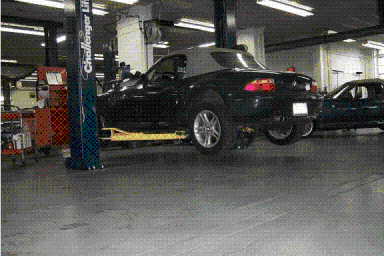 These lifts go right through the ceiling (well, the drop ceiling, at least:-)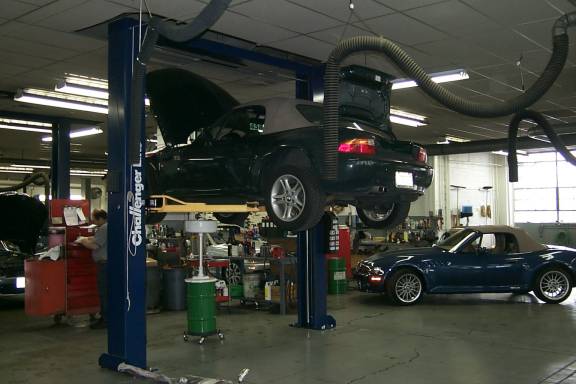 After it was up on the lift, Carter Lee (who makes the Homecoming Videos) started looking underneath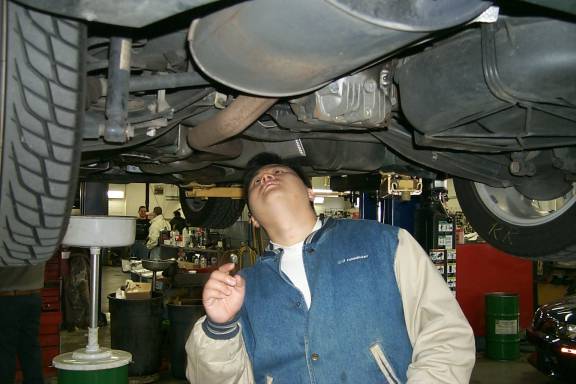 One thing that surprised me was that the fuel filter and some other bits were underneath the car! In the cars I've had in the past, it's been somewhere in the engine compartment.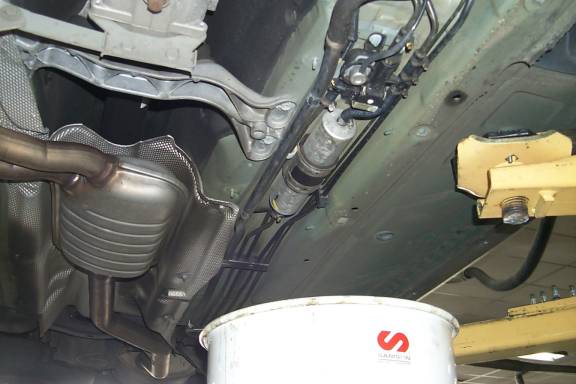 Fortunately, it's all underneath this cover, seen here in place.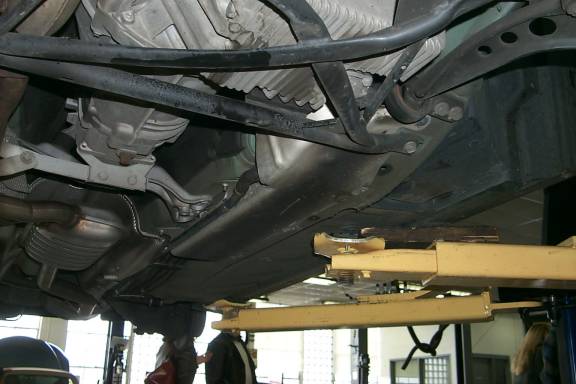 So, as you may know, I got a Dinan Cold Air intake at the last Fixit Day, and it's been a year and 4 months (and I can't remember how many miles it's been). Anyway, the K&N filter that's a part of the CAI assembly was rather dirty, so I chose to replace it. I've read that you can wash the filter, but lately I read that it's better to replace it, so I chose the latter. I kept the original, and I will wash it and later test it out to see how that works. More on that later.
Anyway, Lou removed the front wheel well liner to access the filter, as you see here. This is the easiest access to the filter, which otherwise would involve removing the left front headlight. Even so, as Lou mentioned and I observed, removing and reinserting the filter is not as easy as it looks.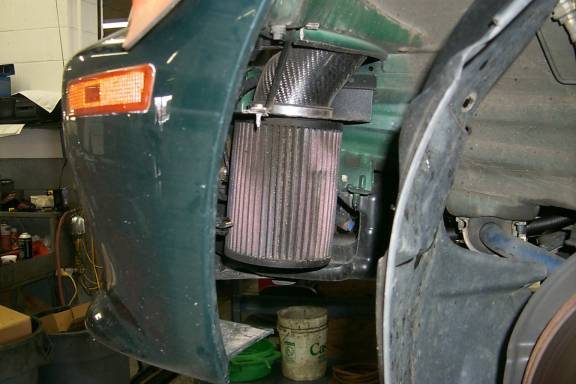 Here you see the differences between new and used filters, noting the red/blue color difference.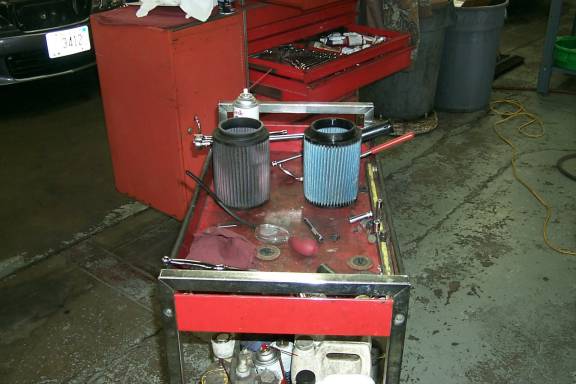 Some time around this point, Joe Millington came over, and informed me in an embarassed fashion, that I was a little premature with getting the Inspection II. Truth be told, I knew, but I was hoping they might be able to do it under the normal free maintenance plan. Unfortunately, they couldn't. In other words, I had to pay for the work, But I was prepared to do that anyway. Joe was apologizing profusely, but I was also apologizing. I should've said that to begin with. No matter, It was work I wanted done anyway, since the car's just over two years old now.
End of page 9
---
---
Please let Jon know what you think
Go Back to Jon's Z3 Photos Page
All photos are Copyright 2001, by Jon Trudel. No other use is permitted without explicit consent from Jon Trudel.