Fixit Day 2001
My Work
So, I was mentioning tire trouble. I got new BMW Style 47 wheels in the 16" size from another BMW dealer, and had them install Bridgestone Potenza RE730s, right before the 2000 Homecoming. I noticed some vibration after installing them, and was heartbroken. Previously, I had some aftermarket Mille Miglia Spider wheels, but they bent a lot, and I found that replacement cost was cheaper than repair cost (more or less). Anyhow, I went to Homecoming with my original BMW 5-spoke wheels, which are nice, and have never given me any trouble.
When I returned from Homecoming, I took the new wheels to a local Tire Rack installer, and they did rebalance the wheels. They were, for the most part, better, BUT, at the highway speed I travel at, there was a mild vibration, even still. I was hoping this wasn't another bent wheel fiasco. I looked at the wheel weights that had been installed, and there were a lot of them. I had heard that when this happens, it's probably better to remove the tire, rotate it, remount it, and then rebalance it.
To be fair, however, when cleaning out my other car, I found some wheel weights wedged in the seat. Perhaps while transporting the wheels, I dislodged them. That has to be why I felt the vibrations that I did.
When I heard that Daniels had the Hunter brand tire machines, I was hopeful they could help. Below is a picture of the balancer.. The wheel's mounted, and the roller ( indicated by the red arrow) presses down on the wheel to spin it for the balancing process. So anyway, the roller does its thing, spinning the tire in both directions, and when its done, you get three readings. Two of the readings indicate where to put weights for balancing, and one to indicate if the wheel itself is bent. The green arrow indicates what weights to put on the inside of the tire, and the yellow indicates what weights (in grams) to put on the outside (behind the spokes). Unfortunately, you can't see the third reading. For it, any rating of 25 pounds or greater indicates the wheel is bent and needs repair. If you look closely, there's a red indicator on the screen saying where to put the weights. Pretty darn foolproof.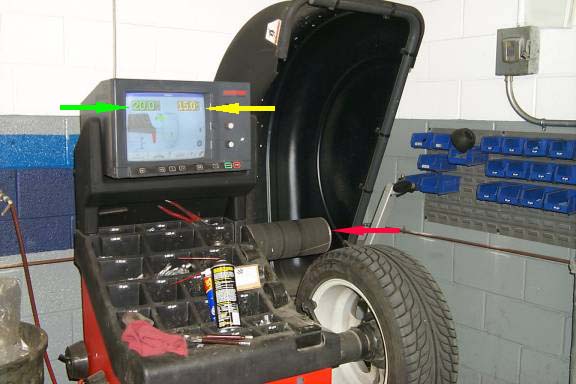 Here's the Hunter machine number 2, the tire removal device. Note the rubberized pads around the center spindle. They press against the wheel to keep it in place. Other tire machines I've seen have metal points that dig in to the wheel, not nice. Some of my Mille Miglia Spider wheels were likely mangled on those other machines, which I happened to see when they were being worked on. I didn't know any better then, but I do now!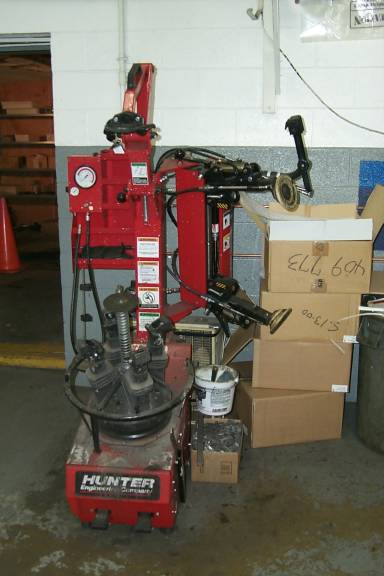 Daniels has the Hunter Hat Trick in that their alignment machine is also of the Hunter variety. I hear it uses "lasers". I didn't have an alignment, but if I did, I'd know it would have been done properly.
Here, Lou breaks the seal on the wheel so he can rotate the tire while it was still on the wheel.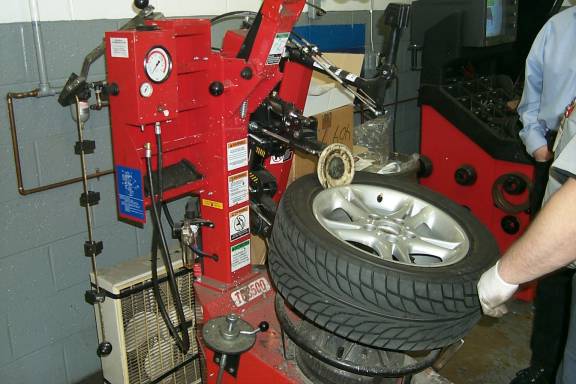 Two wheels needed minor rebalancing. One tire was rotated on the wheel and rebalanced readily. Unfortunately, the last wheel was giving a lot of problems. After the first try at rotating and rebalancing, the machine indicated that there was a problem with the wheel being out of round. A second try of rotating the tire on the wheel finally got things in to shape. the 0.0/0.0 rating (as you see here) means the wheel and tire combination is balanced. Whew! I was starting to mildly panic for a bit there, but I kept my cool.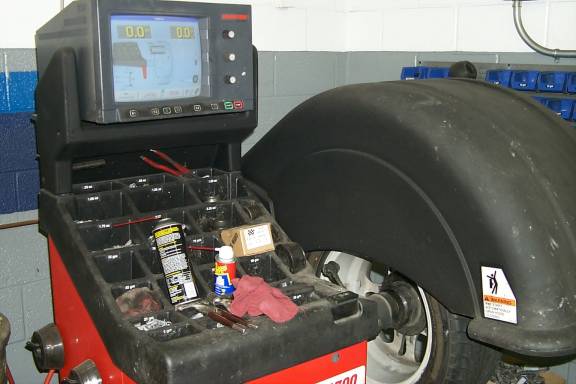 Lastly at this Fixit Day, Daniels had Rigalis Interior Repair present. They work miracles. Take a look - there was a scratch in the side bolster, and cracks on the other side of it, which aren't visible.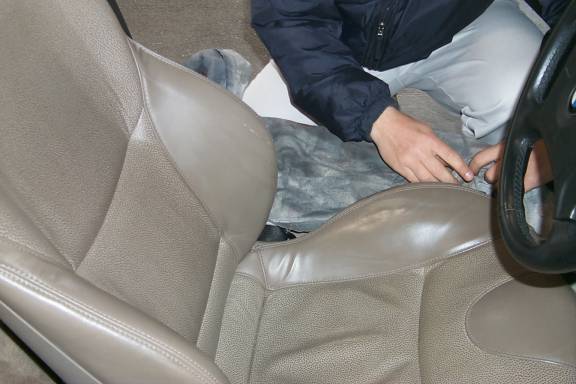 They did their magic, as you can see in these before and after pix (combined here by Rachel :-). Great Job, guys!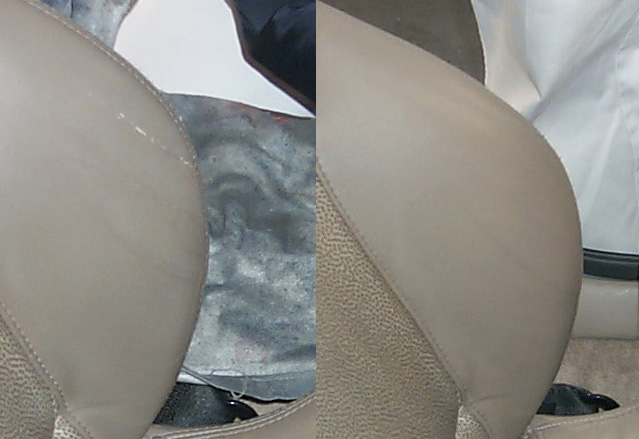 And of course, it was "Daniels' BMW Service" that made it all possible, not to mention the great effort by Rachel. Way to go!
I had a great time, got great service, and had a lot of fun. I think everyone else did, too.

End of the Fixit Pages
---
---
Please let Jon know what you think
Go Back to Jon's Z3 Photos Page
All photos are Copyright 2001, by Jon Trudel. No other use is permitted without explicit consent from Jon Trudel.