Autocrossing and Dropoffs
Well, Saturday was busybusybusy! I got a chance to autocross for the first time this year. Given that I recently had a Dinan Stage II suspension installed in my Z3 at the 2002 Fixit Day, and that I'd just gotten used to how it changed Saffy's road feel, I felt the autocross was a great way to check it out. However, Saturday was also the day that I had chosen to drop her off at Daniels for some additional work that would require a week or so to finish.
What to do? I was debating how to go with this - I wanted to hand Saffy off to a real live person (I don't like key dropoffs ;-), and I was dying to autocross. On one hand, if I wanted to drop her off first thing in the morning, I had someone who could help, but that meant no autocross. Fortunately, I begged, and pleaded with some friends, and I got Lisa K. to give me a lift home from Daniels' in the late afternoon, which meant I could have it all! (well, almost).
I can say now that I love the new Dinan suspension. I'd had the sway bars installed previously, but now, with the Dinan springs, and Koni Front Struts/Rear Shocks, the car handles wonderfully! The ride is very controlled, and the rear doesn't want to do that hop thing when I am turning and driving over bumps. The struts are adjustable, and when I drove home from having them installed, the ride was a little jittery. I later found that was because they were in fir full firm setting. For tracking and autocross, that's fine, but not for the street. The middle setting seems to be good for the street - the minimum setting is a little too soft for the rough roads of NJ.
It was a great day to be outside. The temps maybe reached 70, but it was sunny with few clouds in the sky!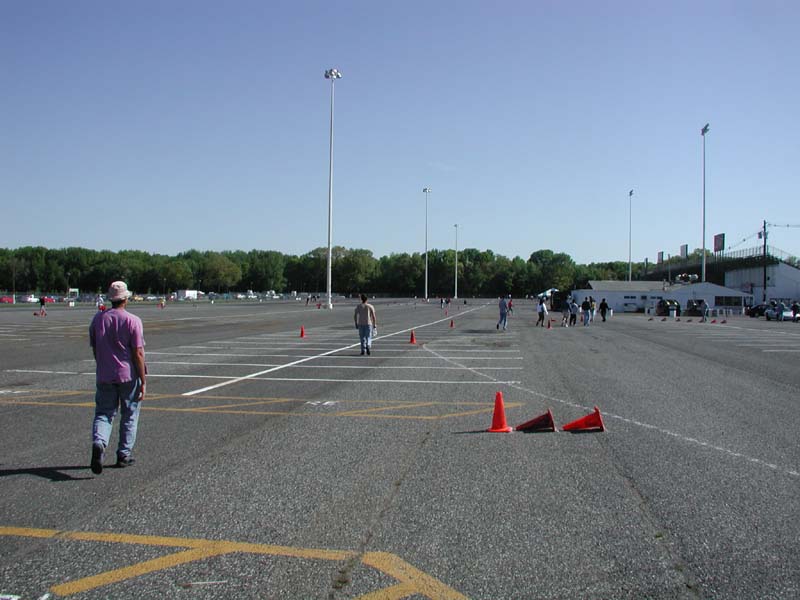 This autocross started early because they had to finish early. I love the NNJR events because even though 150 or so drivers show up, they can usually let everyone get in 6 runs, because they run a "tight ship". There are two "run groups" - first, the Stock Cars and the "Pro" class, and second, the Modified, Prepared, Street Prepared, and NOvice class. The running order is first group, second group, first group again, second group again. This way, you can choose to have a couple of runs, then depart by 1pm or so. Worked for me, and that's pretty much what I did.
I only got in three runs before I had to leave, and the first run was my best. In the second, I got impatient with the throttle, and slid off course in the 180 degree turn at the back end of the course. The third was OK, but not fast enough. Here's an action photo taken by John Abella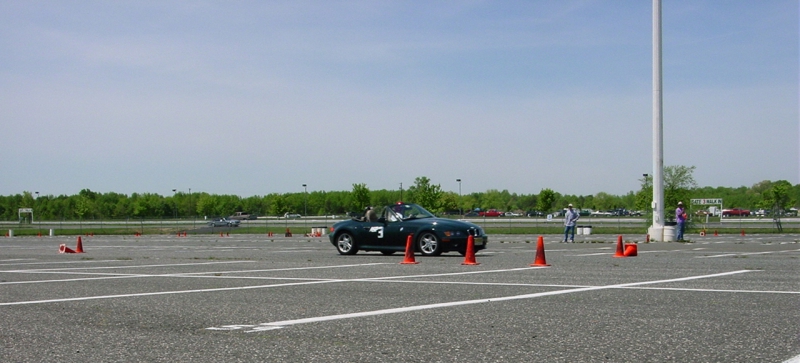 In my class (A Street Prepared), there were 7 cars - 4 Mazda RX-7 Turbos, myself, and two people sharing a Corvette. I came in 5th out of 7, but I think I'd have done better in the afternoon runs, if I'd had the time. I was also on street tires, and if I'd had race tires, who knows?
One of the RX-7 guys had upgraded his engine compartment with performance parts, and chrome chrome chrome!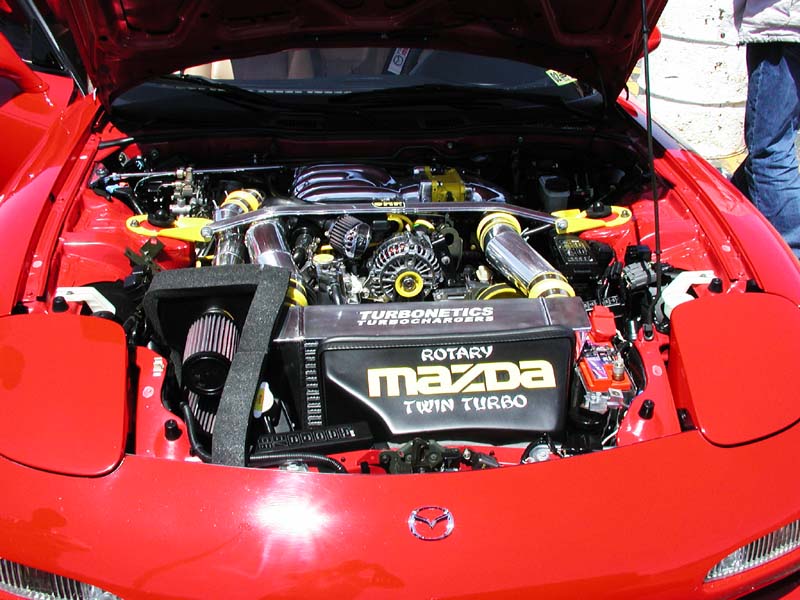 A little much for my tastes, but eveyrone has their preferences.
There was even a Mini Cooper S!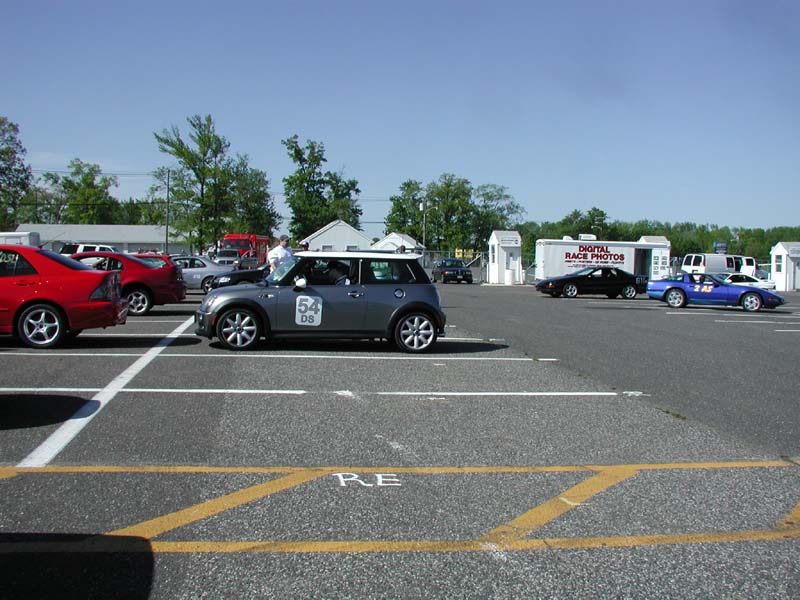 The guy paid MSRP plus tax for it, and I forget where he got it. He was definitely a proud papa. Here's a short video of it in action I took with my Olympus digital camera (it's 2.8 MB!), and I probably should've zoomed in more. My eyes told me it cornered a lot flatter than most cars.
A novice brought their new Saleen Mustang, specially prepared with a rollbar. Looks very nice to me!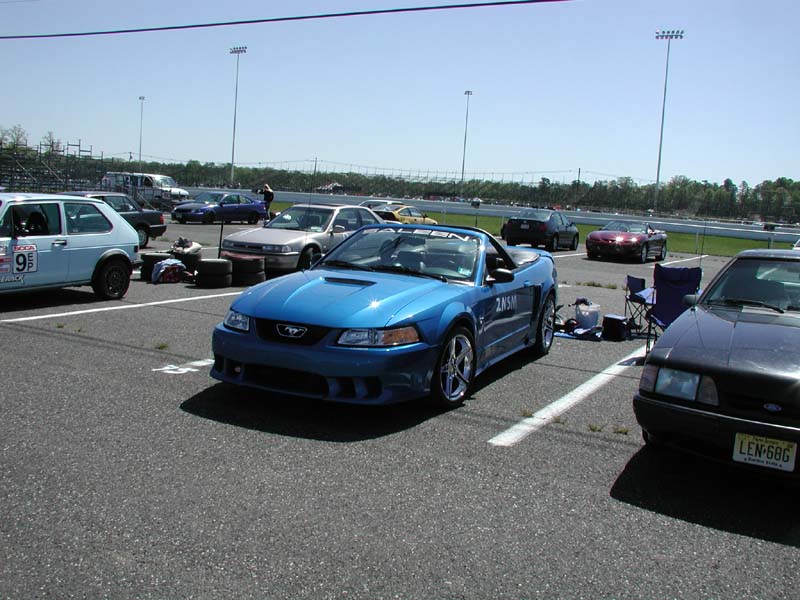 Here was an interesting competitor - this woman had a Lexus IS300 - the interesting part was that she specifically didn't want to get the car until Lexus offered it in Manual. I know I would have. From what I hear, it's a pretty good car to own, and a worthy competitor to the BMW 330.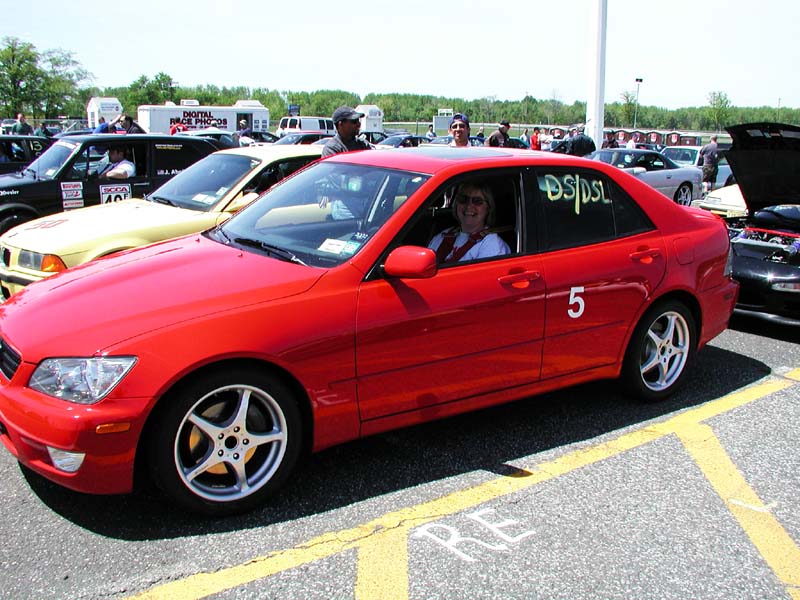 If you feel like downloading a 5+MB zip file, here are the autocross photos all at once.
So, after the autocross, I had to go home to get something (sunscreen, ARGH! I wasn't expecting to need it so early in the year), and then I head off to Daniels' to meet Lisa. I was going to Daniels' to have the convertible top replaced under warrantee (the stitching was seperating from the rear window), and to have the front end repainted because the stone chips were just too much for me to bear.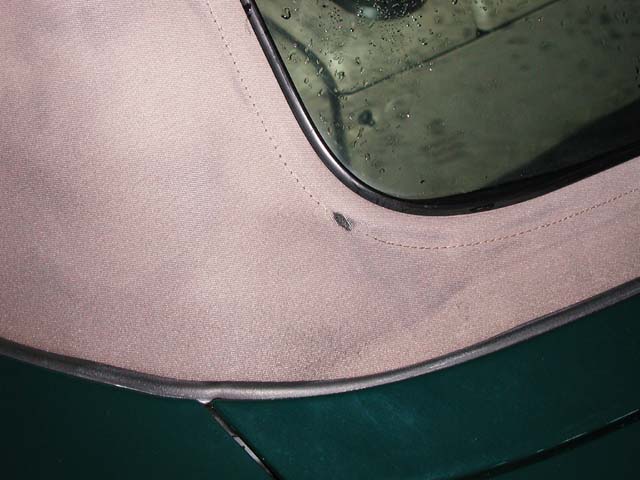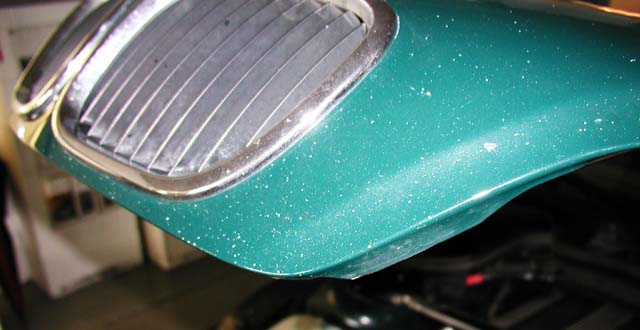 The bumper will also be receiving a cleanup and repaint at the same time.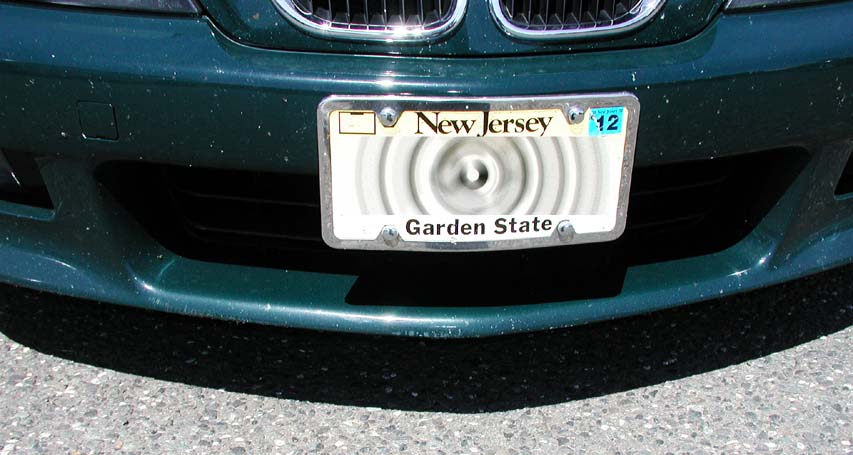 So, I made the 1+ hour drive to Daniels. I shot some more video on the way - if you are the first to identify the artist and song in this 9MB file, I'll buy you a Z3 Hatz ;-)
To be quite honest, my car was filthy, even by my standards. I felt I had to wash her before I dropped her off. So, instead of staying on I-78 the whole way out, I detoured onto US 22 and cruised through Easton looking for one of those spray and wash places (one with a high pressure spray gun), and didn't have much luck there, so I hopped back on I-78 and shot this 4.2MB video. The roads were clear, the sun was just right, and the temps were incredible!
Eventually, I made it to Allentown, and took the long way around town. Fortunately, I found a spray and wash a few blocks away, and spent enough to get the dirt and schmutz off. When I arrived at Daniels', Lisa was waiting, and talking to one of the salesmen, Greg. He was really nice about it, and allowed me to drive Saffy into the garage, and since she was still wet, gave me a chamois to dry her off.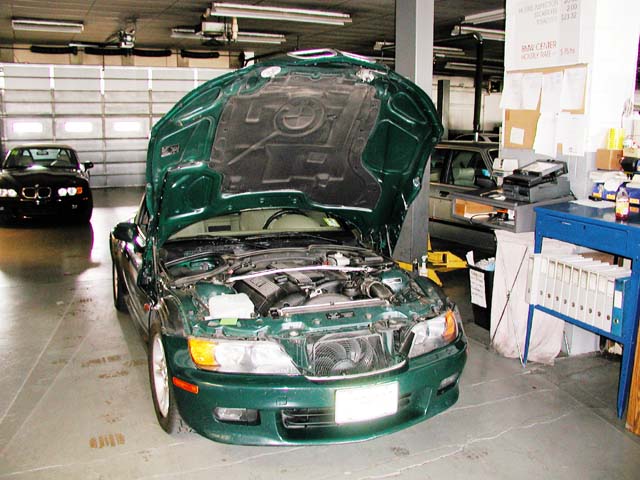 I filled out the requisite paperwork, and was very happy to be able to bring the car inside. One last photo of Lisa's unfortunate run-in with a tree branch that scratched her bumper, and made a dent in the hood to the left of the driver's side headlight), and we were off.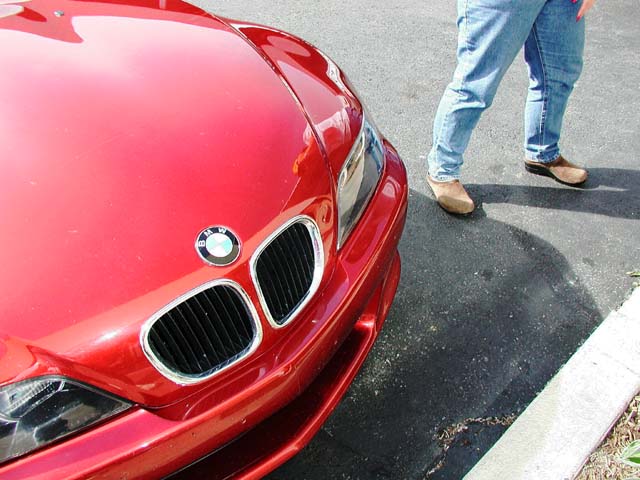 Funny thing here. I have rarely been a passenger in a Z3, and the hour plus ride home would be the longest time I'd been one. It was a little odd. Lisa and I drove back on I-78, and we found the only way to have a good conversation was to ride with the windows up. If you're one of those purists, tough noogies. Anyhow, Lisa and I caught up on things, including those Lid Savers, which are clips and cord that hook onto your hat to prevent it from flying away. On the way back, I directed Lisa to a place I knew had them, and she dropped me off shortly afterwards. Lisa had to run back home as they were doing a pre-Mother's Day dinner and she had reservations to get to. Oh well, I owe her a dinner, at the very least!
Fortunately, I have another car to handle the time away, but I'm already having pangs of loss! Hopefully the week she's in the shop will be brief!
---
Go back to the Z3 Photos listsings.
Go back to the main Z3 page.
Return to the ackthud.net home page
Hats off to 'em.