The Out Of Hibernation Run
We continued on Route 100 (Still!). It's definitely a fun cruising road if you haven't got anywhere to go. We ended up at the Bennington Monument.
I tried taking a panoramic, but didn't have a lot of success with the software. Check this funky result.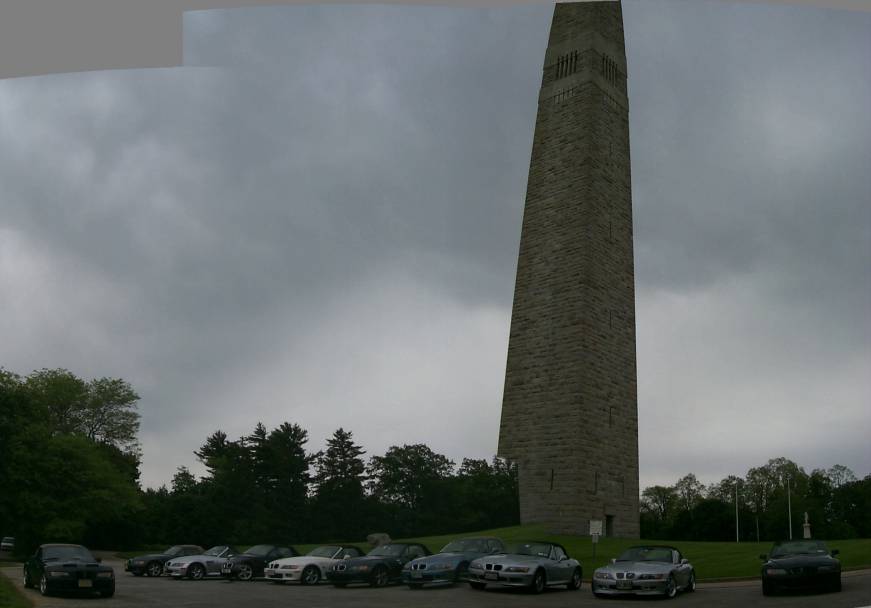 At this point, Rachel and I bid our farewells, as we had another 5 or so hours to go to get home. We drove down Route 22A outside of Bennington, then 295 in NY, and then we hopped on the Taconic Parkway. We took it easy, and a LOT of cars passed us on the way. We had one pickup truck that decided he wanted to "play", but fortunately, the driver didn't have a severe case of road rage that his driving style would have otherwise indicated. Here's a pic I took whilst travelling on 22A.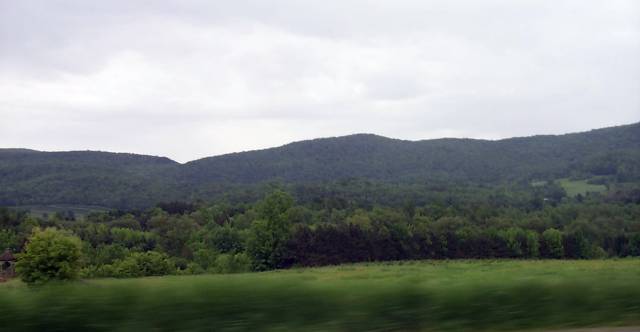 Instead of heading down and hopping on the NY Thruway, we chose to cut over to Bear Mountain and down the Palisades Parkway. Here's a pic where you can faintly make out the Bear Mountain Bridge.
The ride from there was a little annoying, because as we closed on NYC, the quantity of SUVs dramatically increased. The Palisades Parkway was under construction in NY state, and they narrowed the lanes as a result. Not pleasant, and I could sense the tension level in the drivers around us rise (I'm sure Rachel did, too). The Palisades ends at the George Washington Bridge, and as luck would have it, Rachel was able to get right on the bridge. I veered off onto the NJ Turnpike, and was in the door at 10:30 Sunday night. Of course, I passed out several moments later on the couch, and didn't get up until later Monday.
No matter. It was a great event, and Fred deserves a lot of thanks for putting it all together! I love the kind of roads he chose - high speed limits, low traffic, and FEW traffic lights. I'm looking forward to Fred's next cruise, whereever it may be!
---
Go on to Page 1 - Getting there is not quite half the fun. Page 2 - A drive-by Z3ing Page 3 - A fine start to a good morning Page 4 - Open tops under the open sky Page 5 - Appalachian Gap Twisties Page 6 -The Run to Lunch Page 7 - Cruisin' Page 8 - Rain Rain, GO AWAY! Page 9 - Bennington, and Home Go Back to my Z3 Photos Page