Fixit Day:2001, a Z3 Odyssey
The day was rolling along, and somewhere around 2 PM, we had a gathering of the masses. Daniels' gave out some things to us. Bruce T and Carter got a tachometer-style clock for driving 13+ hours from Chicago.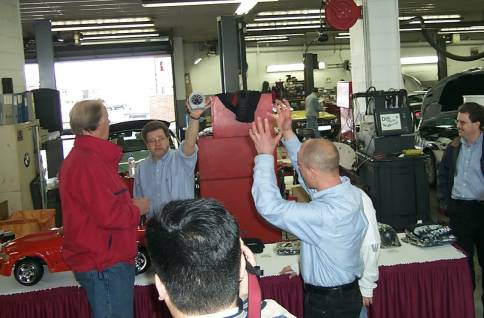 Daniels' raffled off some gifts - cases of oil, wash mitts, and so on. They gave Rachel a BMW scarf for her efforts to make Fixit Day a success.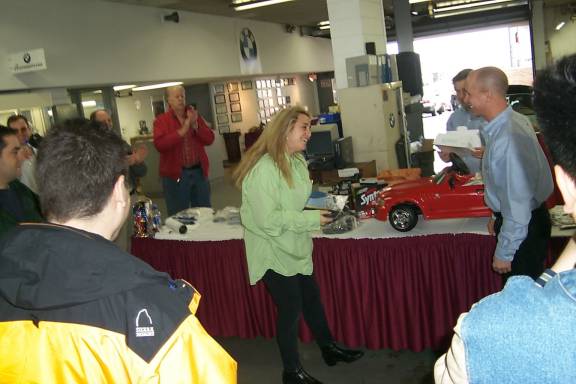 Rachel then presented Daniels with the Homecoming Photo.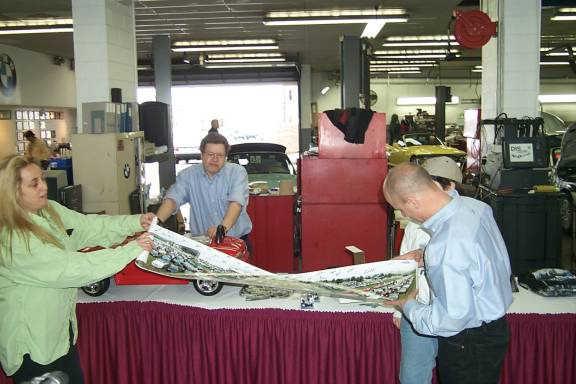 Daniels raffled off some wash mitts, cases of oil, some other items, and also a Bright Red Z3 Roadster! Ok, ok, it was of the pedal variety, and you can see it in the background of these photos
Anyhow, Rachel brought up Lisa #1 and Penny Piper (Lisa's Aunt, BTW), who volunteers at the Third Street Alliance Women's Shelter. Rachel then read aloud the lyrics of Tracy Chapman's song "Fast Car", a song about getting into a fast car to drive away from it all to a new life. Quite relevant, given the circumstances. I can only hope our donations will help enough.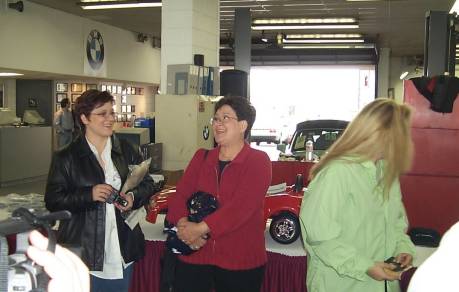 Here we all are! Even Rudy, the mechanic we all had to "urge" to come join us :-)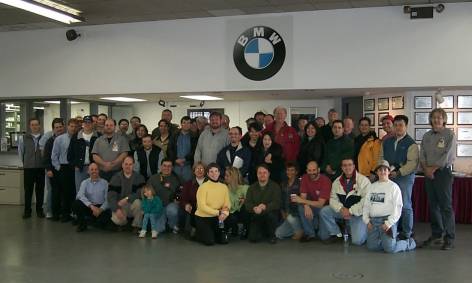 Fixit day welcomed two more ladies to the growing list of Z3 Girls - From left to right, we have Lisa #1 (new), Kathy (new), Lisa #2 (Rachel's Cuz), and, of course, you know who.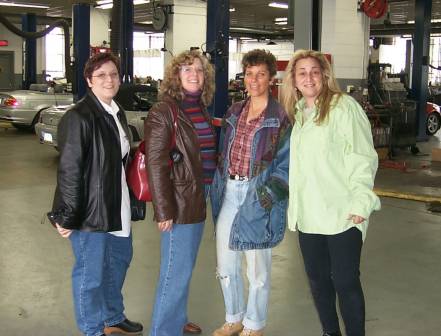 End of page 7
---
---
Please let Jon know what you think
Go Back to Jon's Z3 Photos Page
All photos are Copyright 2001, by Jon Trudel. No other use is permitted without explicit consent from Jon Trudel.